The Grand Young Trotting Stallion AXTELL
(1886 - 1906)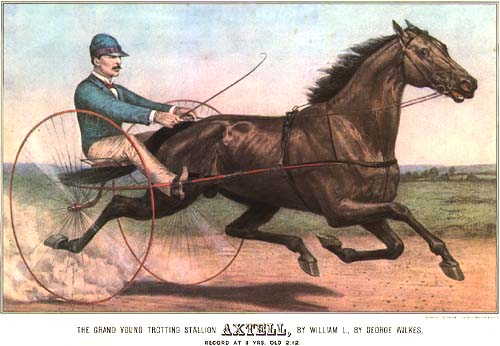 Caption: THE GRAND YOUNG TROTTING STALLION AXTELL BY WILLIAM L., BY GEORGE WILKES
RECORD AT 3 YRS. OLD: 2:12
The tiny print at bottom right reads: "REPRINTED FROM LITH. BY CURRIER & IVES"
("William L." is the full name of Axtell's sire; His grandsire is "George Wilkes", son of Hambletonian.)
Click the picture for a larger (264Kb) image, better for printing.
This picture is scanned from a 1978 promotional calendar from the Travelers Insurance Co. For 2 years, this website had no additional information about this horse. Then I had a remarkable call from Mike McCormick of Terre Haute, Indiana. He is the Vigo County historian and was searching the Web for Col. Alexander Baxter Crane. Crane was a lieutenant colonel from Indiana during the Civil War. Mike didn't know where the colonel went after the war. He happened on the AFO website because Col. Crane, who became a successful lawyer in New York City, had lived in Scarsdale NY and had named Axtell Drive after his great-grandmother, 100-year-old Joanna Axtell Crane (1746-1846) who had died when he was a boy of nine. (see Roads named Axtell). Note: There is no known connection between Col. Crane and the stallion other than the fact that they both lived in Terre Haute.
Well, while Mike was in a website about Axtells, he looked to see if we had anything on Axtell, the trotter that, at one time, made Terre Haute famous by setting the world record for the mile there. He saw that we had no information and kindly called me (14 Jul 1997), following up with this e-mail:
The stallion AXTELL set the world stallion trotting record at Terre Haute, Indiana on October 11, 1889 in 2:12.0. At the time he set the record, he was owned and driven by C.W. Williams of Independence, Iowa. After the race, he was purchased by a syndicate headed by William Putnam Ijams and John Conley for $105,000, $30,000 more than had ever been paid for any horse of any kind. Thereafter, he was maintained at Warren Park Farm in Terre Haute. Due to an injury, he never raced again but received a $1,000 stud fee and became one of the greatest sires in harness racing history and his progeny is still highly coveted. One of his sons was AXWORTHY. Both AXTELL and AXWORTHY were inducted into the Hall of Fame of the Trotter in Goshen, New York in the first two years of the Hall of Fame's existence. He died in Terre Haute in 1906. During the time that Axtell reigned, harness racing was as popular --or more popular-- than thoroughbred racing. Axtell was trained by Budd Doble, who moved with his entourage from California to Terre Haute each year to focus on the many horses sent here to train under his tutelage. The Currier and Ives print represented that it was a painting of Axtell when he set the world mark described above. Terre Haute, coincidentally, also was the home of Col. Alexander Baxter Crane, colonel in the 85th Indiana Regiment, before the Civil War. He came back on several occasions, usually for regimental reunions. Each time he was feted and his speeches and letters were printed in local newspapers.
Regards,
Mike McCormick

Some other notes on AXTELL from Mike McCormick:
AXTELL was a descendant of Hambletonian, b. May 5, 1849, the foundation sire of the standardbred breed. AXWORTHY is the most famous of AXTELL's descendants (and more famous than AXTELL), but there are 6-8 other horses with names based on AXTELL (it is customary to include part of a famous sire's name in the progenies' names). He was sold the next day after his world record. Owners came from far away to the slightly-out-of-level "four-corner" race track in Terre Haute with hopes of their horses setting a record. AXTELL is buried in Terre Haute, but the site may be a shopping mall now. If there is ever a move to build a memorial to the grand stallion, Mike will be sure to let me know so I can post the information here.
The 2:12 record did not stand long (as Carl Sandburg's autobiography attests below).
The Terre Haute (IN) Express of Oct. 12, 1889 reported:
Axtell trotted in 2:19 at St. Louis last week and it was the first mile he had gone in three weeks. In connection with to day's great performance it is apt to any that the colt was named after the School Superintendent Axtell of the Independence, Ia. public schools. He goes from here to Lexing-
The photocopy that Mike McCormick sent me cuts off the rest of that column, so I don't yet know if it explains how the naming is "apt". From this clue, the stallion's namesake is probably...
===========================
#7-320 Loveridge Samuel Axtell
b. Nov. 24, 1832 in Georgetown, now Sheakleyville, Pa., m. (1) Sarah Holloway, Sept. 1855, m. (2) Fannie Wade in 1862. He studied three years at Allegheny College, Pa. In 1854 he went to Kansas as locating agent for a large colony from western Pennsylvania. At the first general election ever held in Kansas, he was a judge of the election, and with all the free state men was driven from the polls. He lost his first wife and infant daughter at Council Bluffs, Iowa, in 1857. He was principal of High School and County Superintendent of Schools in 1864. When poor health obliged him to give up teaching, he settled on a farm at Honey Creek, Iowa. In 1874, he was a member of the Iowa State Legislature. [from the 1945 Axtell Genealogy]
===========================
Loveridge (he may well have gone by "Samuel") had several children who stayed in Honey Creek and others that continued west. Council Bluffs and Honey Creek are near Omaha, Nebraska, and Independence is 240 miles east, near Waterloo. So one problem with this theory is that Independence isn't mentioned in his biographical entry. Then again, nothing is said about where he was superintendent, so somebody is going to have to ask at the high school or superintendent's office before we can be certain. If you're ever in Independence, Iowa, please check it out and let me know. Thanks.
CW Williams moved to Independence when he was 11, so Loveridge may have been a beloved high school teacher to the teenaged Williams (b. 1857).
---
AXTELL mentioned in Carl Sandburg's autobiography
Carl Sandburg (1878-1967) was one of America's most versatile writers with Pulitzer prizes for both poetry (1918, 1950) and for some of his six-volume biography of Lincoln (1926-39). He also collected folk songs (The American Songbag) and wrote children's books (Rootabaga Stories; Abe Lincoln Grows Up). From his one novel, Remembrance Rock (1948), comes a quote particularly apt for a website concerned with genealogy: "A baby is God's opinion that life should go on." In the following excerpt of his autobiography (Harcourt, Brace & Co., 1953, Chapter 18, p. 372), Always the Young Strangers, he remembers his youth in Galesburg, Illinois:
I was sixteen or seventeen when I carried water, ran errands, a few times helped sponge and dry a sweating horse, over six weeks of racing at the Williams racetrack. What I earned in quarters and half-dollars ran maybe up to ten dollars. But I had a pass to come in at any time and I saw up close the most famous trotting and pacing horses in the world, how they ran, and what the men were like who handled and drove them.

C. W. Williams came to Galesburg from Independence, Iowa, where he had what they called a "kite-shaped" racetrack, though some said it was more like the figure eight. He had been a telegraph operator and had picked up, at prices that later looked silly, two mares. The world-famous stallions Axtell and Allerton were foaled from these two mares "bought for a song." In 1889 the three-year-old Axtell cut the world's trotting record for stallions down to two minutes and twelve seconds, and on the night of that day was sold to a syndicate for one hundred and fifty thousand dollars, said to be then the highest price ever paid for a horse of any breed. Two years later Mr. Williams could have sold his stallion Allerton for more than he got for Axtell. This was after Mr. Williams himself drove Allerton to cut the world stallion record to two minutes and nine and three-quarters seconds.

So when Mr. Williams came to Galesburg in 1894 he had a reputation, organized the Galesburg District Association, and laid out a new racetrack on one hundred and twelve acres on the Knoxville Road east of Farnham Street, the same land where I had carried water for a hay-harvest crew, and across the road from the house where I had seen a man make a woman cry with the words he snarled at her. The new race track, Mr. Williams gave it out, was "the only dead-level track in the world." Shaped like a railroad coupling pin, the long sides of it were dead level, with the ends graded for the sulkies to make the turn. In the great six-weeks racing meet that Mr. Williams put on there were rainy days when races had to put off and other days when small crowds came, even though the trotters and pacers had national reputations. But there was one big week of good weather and one smashing big day in that week. That was the day we saw the black mare Alix come down the home stretch to break the world's record for trotters. Away later I wrote of it: "I see her heels flash down the dust of an Illinois race track on a summer afternoon. I see the timekeepers put their heads together over stop-watches, and call to the grandstand a split second is clipped off the old world's record and a new world's record fixed. I see the mare Alix led away by men in undershirts and streaked faces. Dripping Alix in foam of white on the harness and shafts. And the men in undershirts kiss her ears and rub her nose, and tie blankets on her, and take her away to have the sweat sponged. I see the grandstand jammed with prairie people yelling themselves hoarse. I see the mob of caresses. I see the wives of the driver and owner smothered in a crush of white summer dresses and parasols. Hours later, at sundown, I see Alix again--and I want to rub my nose against the nose of the mare Alix."

That day put Galesburg on the map for horsemen and horse-lovers over the whole country. At the center was Mr. Williams. I saw him several times on the track and on the Knoxville Road driving Allerton and other stallions he had "placed at stud." He was a medium-sized man with an interesting face. I thought his face looked like he had secrets about handling horses yet past that there was a solemn look that bordered on the blank--I couldn't make it out. He made a great name in the horse world and breeders came from the country over to see him. The blood of his stallions ran for many years in winning horses. A horse named Lee Axworthy, who ran a mile in 1:58 1/4 was a grandson of Axtell.

Then harness racing began to run down in style and fashion. Mr. Williams sold all his horses for good money and put it into Canada land dealings. He hit "the sawdust trail" at a Billy Sunday revival. The last time I saw him was on a Q. passenger train from Chicago to Galesburg. He sat quiet in a seat by himself. And I could no more read his face than I could twenty years earlier. I like to think about him as I saw him once on an October morning, a little frost still on the ground, in a sulky jogging around the only dead-level racetrack in the world, driving at a slow trot the stallion Allerton, being kind and easy with Allerton, whose speed was gone but whose seed were proud to call him grandsire.

[end of chapter 18]

Note: Sandburg said that Axtell was sold for $150,000, but it was really $105,000.
Questions remaining:
How did CW Williams know Loveridge Samuel Axtell?
Where was he born? (AXTELL came to Terre Haute from Independence, Iowa, but may have been born somewhere else.)
Could there be a connection between Col. Crane (b. 1837) and the stallion? (Loveridge Axtell and Alexander Crane were 3rd cousins on the Axtell side, so that family connection is probably too distant to matter.)
Back to Axtell History Album.
[AFO Home] [The Name] [Genealogy] [Places] [Notables] [Businesses] [Album]
---
Last revised 30 Jul 2000 by Dan Axtell