Samuel Beach Axtell (the younger)
Unfortunate Exploits of the Nephew of Governor Samuel Beach Axtell Unveiled!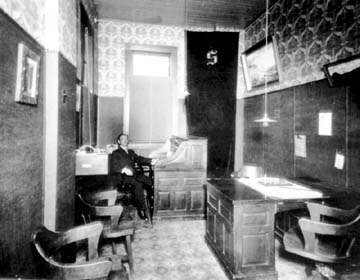 Many thanks to Robert C. Sollars of Eugene OR (the 2nd cousin once removed of poor Charlie) for sharing his extensive research on the 1911 Sollars murder in Lodi, California. (To: His Sollars Genealogy Page)
The 1945 Genealogy entry for Samuel Beach Axtell [9-262] reads:
"b. June 21, 1870. Editor and proprietor of the Daily Sentinel at Lodi, Calif., until 1910. Married Clara Kettleman about 1892; they had one child who died in infancy. His late life was spent in La Jolla. He died in San Diego about 1931." [Note: He was actually proprietor until 1911 and died in 1933.]
Robert C. Sollars writes:

Are you acquainted with the Samuel Beach Axtell, former proprietor and editor of the Lodi Sentinel, Lodi, CA? He is historically tied to our Sollars line, not by blood but by deed. In early years, they, Sam B. Axtell and Charlie Sollars were close friends personally and in business. Charlie was proprietor of the Lodi Soda Works.

According to court records, around the year 1900, Charlie, as usual, went to the Lodi Sentinel to have some much needed company forms printed up. For some reason, Sam could not accommodate him at that time, so Charlie took the rush job to the new newspaper in town and had it done by them. It was common practice for the town newspaper(s) to do other printing for other businesses in these times to stay alive.

Well this never set well with Sam, and he stated as much in an editorial in the next issue of the Sentinel... in rather sharp tones he attempted to cut up Charlie. In the opposing newspaper, Charlie answered Sam's charges with an air of comedy. Thus began a 10 year feud. Charlie took it all with a grain of salt. Some of the town fathers came together and in Axtell's office, asked him to stop the attacks on Charlie Sollars, and he did for a time but went right back at it again after a short respite. And, of course, Charlie replied as usual. Sam's remarks became more and more harsh.

Then came the day, Saturday, 6 June 1911, that Sam followed Charlie around Lodi as the latter was making his rounds of businesses that required his services. Charlie was having troubles with his Jackson automobile and pulled into the Lodi Garage downtown to be in the shade and check it out. Sam saw him enter, and within moments while Charlie was leaning over the engine of his vehicle, Sam walked up behind him and fired three shots point blank without uttering a word. Two struck Charlie who straightened up and ran from the structure into the bank across the street. Two fellow citizens apprehended Axtell who was in pursuit, and disarmed him. Charlie died the next morning from the wounds. Sam stood trial and was convicted and given life in prison. Like today, he was on the streets again in 7 years, but never returned to Lodi. After some research I found the following article:

SAMUEL BEACH AXTELL
Ex-Lodian, Dies
Lodi Office, Stockton Record, July 6,1933

Samuel Beach Axtell, former publisher of the Lodi Sentinel, who served several years in the penitentiary for the killing of Charles Sollars, died suddenly in San Diego Friday morning (June 30, 1933), according to word received here. He is reported to have been stricken by a heart attack while in a barber shop, dying a few hours later.

Axtell is survived by his widow, Mrs. Clara (Kettleman) Axtell. They had been residing at Los Gatos and at San Diego.

Also surviving are two brothers, Charles of Oregon and John D. of San Diego. Deceased was 63 years of age, a native of San Joaquin County (CA)

(Stockton Record, Thursday, July 6, 1933, Stockton, California)
...Sam, in his youth was ran over by a hay rake (if memory serves) which scared him up pretty bad. I believe it was suggested this may have had an effect on him mentally as well. Sam was an interesting subject to study even if he did dispatch old cousin Charlie!
---
Bob Sollars has put together a detailed account of the whole fascinating and sad tale which he may some day publish. From newspaper and court accounts, the immediate cause of Samuel Beach Axtell's vengeance was an auto accident on June 10, 1911, just 6 days before the murder. Sam had lent his Hines automobile to two young lady school teachers. They came too fast upon a hay wagon and nosed the automobile into the canal to avoid it. Charlie Sollars came upon the scene to help and Sam Axtell used his influence to keep the ladies' names out of the papers in an effort to protect their reputations. The cover up begat rumors. Sam convinced himself that the source of the rumors was Charlie and the 12-year feud climaxed when Sam shot Charlie in the back at point blank range. The trial caused much excitement and was perhaps--until recently--California's trial of the Century. Sam sold his controlling interest in the Lodi Sentinel apparently to raise money for his defense. On November 24, 1911, he was found guilty of murder in the first degree.

The picture (and the inset) show Samuel Beach Axtell sitting at his desk in the offices of the Lodi (CA) Sentinel c.1909-1910.

Back to Axtell History Album.
[AFO Home] [The Name] [Genealogy] [Places] [Notables] [Businesses] [Album]

---
Last revised 7-19-97 by Dan Axtell