Fairfield Presbyterian Church Bicentennial
Sandy Lake, New Vernon Twp., Pennsylvania
Sunday, September 12, 1999
Related links:
George Clifton Axtell ("The Big Ax"), WW II flying ace -thanks to William Everett Axtell
A minor scandal in 1858 from Fairfield's Session notes -thanks to Jennie (Axtell) Magoon and Jill Lengauer
Notes from Dan Axtell:
My brother, John Robert Axtell, and I enjoyed a warm welcome at the Fairfield Presbyterian Church Bicentennial Celebration. It was in 1799 that our great-great-great-great-grandfather, Daniel Axtell (5-40 in the 1945 Axtell Genealogy) became one of the founding elders, along with David Condit and Ithiel Dodd. This line of Axtells went from
Taunton, MA to
Morris Co., NJ (where New England Congregationalists usually joined Presbyterian churches) to
Ten Mile Creek in Washington Co., PA (25 miles SW of Pittsburgh), to
near Sheakleyville, Mercer Co., PA.
Daniel and Ruth (Tuttle) Axtell had 10 children who married (7 of them twice!). Among their 100+ grandchildren were 40 males with the surname Axtell. Because of all these males who passed on the name, about one out of six American Axtells today are descended from this couple.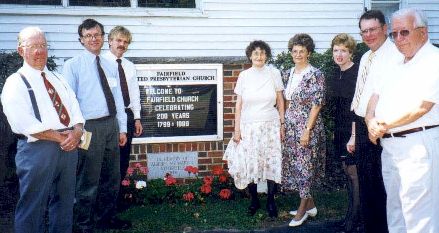 The big surprise for me was meeting Wilbur Axtell, a direct descendant who still lives on the high part of the original Axtell homestead. He has been a member of the church for 71 years, longer than anyone else. He farmed the same land that Daniel worked almost 200 years earlier. He's retired and the once-productive land of the farm is now under Lake Wilhelm, a flood control reservoir on Sandy Creek created in 1971.
People in picture (all descended from Daniel and Ruth): F. Wilbur Axtell, John R. Axtell and Daniel G. Axtell (brothers and 4th cousins to Wilbur), Jenny (Axtell) Magoon and Nancy (Axtell) Monnin (sisters and 3rd cousins to Wilbur), Dee Axtell and Victor Axtell (daughter and son of Wilbur), and William E. Axtell (first cousin to Wilbur)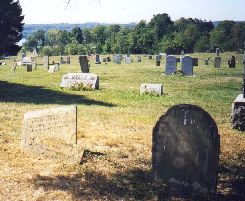 At right are the graves of Daniel (1748-1826) and Ruth (1750-1831). Daniel's grave has broken in two and there are no plans presently to repair it. Anyone who wants to work with the town Cemetery Commission to find an appropriate solution (and funds) should feel free to do so.
At upper left, you can see a speck of Lake Wilhelm. On that ridge somewhere is the Axtell homestead.
About 250 people attended the Bicentennial celebration. At the Centennial 100 years earlier (when Sylvester Axtell was on the Executive Committee), 1500 people attended and an ox was roasted. Sylvester was also on the building committee for the current structure, built 1903.
Many thanks go to Jill Lengauer for her invitation to us far-flung Axtells and to Rev. Doug Etter for welcoming us into the congregation after an absence of almost 200 years.
Sources: 1945 Axtell Genealogy and "Faithful from the Frontier into the Future: Fairfield Presbyterian Church 1799-1999", a 32-page pamphlet compiled by Janice Good, with bibliography (pictured at top of this web page).
---
Excerpts from the Fairfield Church session notes
in which we gain insight to the times and find that the 1945 Axtell Genealogy may have some omissions on purpose.
This transcription is of pages 129-132 in their entirety.
Friday Afternoon May 14th 1858. Session all present. Mrs. Jane Uber presented a certificate of membership from the M.E. Church. After examination she was received. Mrs. Ruth Millner, Abigail Voorhies, Mary Melinda Coulson, Mary Jane Carnahan & Buchanan Carnahan came before Session. After examination they were received as members of this church on profession of their faith. Com appointed to confer with Jos. M. Axtell & wife reported that they plead innocent, further proceedings in relation to the matter postponed for the present. Mr. Condit appointed a committee to notify them not to come forward to the communion until an investigation be had of the matter. Recess until tomorrow after sermon.
Saturday Afternoon May 15th 1858. Session all present. John Alexander McCormick came before Session asking admission into the church. After examination Session not being satisfied he was not received. Session closed with prayer.
James A. Seich Cl.
Fairfield August 15th 1858. Session met. opened with prayer. Members present Mod. Revd James M. Shields Elders William Condit, Elkanah Halloway, James M. Carnahan, James A. Seich. Absent John C. Robinson. On motion the following minute was adopted. Viz Whereas Common fame charges Joseph M. Axtell & Sarah his wife, "That after a marriage of less than 6 months the said Sarah was delivered of a living child that therefore sexual connection must have taken place previous to marriage" Therefore Resolved that William Condit and Elkanah Halloway be a committee to invite the said Joseph M. Axtell and Sarah his wife to meet with Session on Saturday August 28th 1858 at 1 Oclock P.M. in the church together with Dr Samuel Axtell as the attending physician at the birth of the said child. In order that the Session may be enabled to ascertain the facts in the case. Closed with prayer.
James A. Seich Clk
Fairfield August 28th 1858. Session met. opened with prayer. Members present Mod. Revd James M. Shields Elders John C. Robinson, Wm Condit, E. Halloway, James M. Carnahan and James A. Seich. Joseph M. Axtell was present his wife being unable to attend. Also Dr Samuel Axtell. Joseph M. Axtell declares his innocence and the committee report that his wife also declares that she is innocent. Dr Axtell stated "that some good medical authorities favored the opinion that a child might live at 4 1/2 months and from that forwards. That the child was the youngest to all appearances he had ever seen that lived. That he had no expectation when he saw it that it would live." After a free and full expression of opinion by the Session on motion the charge was dismissed the action of Session to be noticed from the pulpit. Mr. Condit was appointed to notify Joseph M. Axtell & Sarah his wife of the same. On motion the names of Dr Samuel Axtell and Mary his wife be stricken from our Roll. They having irregularly joined the Methodist Episcopal Church. Session closed with prayer
James A. Seich Clk
[sideways in the margin is written: E. Halloway was appointed a committee to see Jane Voorhies. report says that she had given birth to an illegitimate child.]
* * *
Notes. Dr. Samuel McFarland Axtell (6-107) and Mary Loveridge were the parents of Joseph Monroe Axtell (7-322), born 1838. The 1945 Axtell Genealogy reports that Joseph M. Axtell married Sarah Franklin in 1857 and the first child listed was born 14 March 1859. Clearly, the 1945 Genealogy omitted that child whose birth caused the above scandal. Who was this child and did it live past infancy? Somebody needs to check an 1860 Census of Mercer County to find out. This story is a reminder that family genealogies may have only the information that people want to be remembered rather than complete (and possibly embarrassing) details.
---
www.axtellfamily.org
Page last revised 07 May 2003 by Dan Axtell